S&S Mechanical
When our owner left college, he saw a need for a home services company with a client-centric focus in the Dixie area. Opening up the shop over 40 years ago, S&S Mechanical started as a small operation and quickly grew through referrals from happy customers eager to tell their friends and family about their experiences. Today, our St. George HVAC company has grown, but we have kept the same basic principles, client satisfaction, and quality warranty-backed repairs and installations as well as friendly, reliable services. We have maintained our place as a premier home services company in the Dixie area.

FAST, FRIENDLY, RELIABLE ST. GEORGE HVAC COMPANY
Heating and air conditioning are often something homeowners forget about unless their system has stopped working properly. We understand how uncomfortable it can be to live in a home with a broken heating or air conditioning system, which is why we aim to help you as quickly as possible. We can usually dispatch an HVAC technician to be at your home within 2 hours of the initial phone call if it is an emergency. Our normal business hours are Monday through Friday 7am – 5pm, but we are also available on-call for emergencies.
WE ONLY EMPLOY HIGHLY EXPERIENCED TECHNICIANS
As a locally operated company, we understand the importance of providing a quality service for your community, which is why we only hire technicians with at least 4 years of experience or more. We want our customers to feel confident they have chosen the right heating and air conditioning company to help repair their HVAC units and what better way to ensure this than to only hire experts in the field. Each and every one of our technicians and members of staff are background checked beforehand. Our customers can feel at ease knowing their technician is a knowledgeable, trustworthy, and friendly individual there to provide them with the best heating and air conditioning repair or installation experience they can.
S&S Trust Certification Guarantee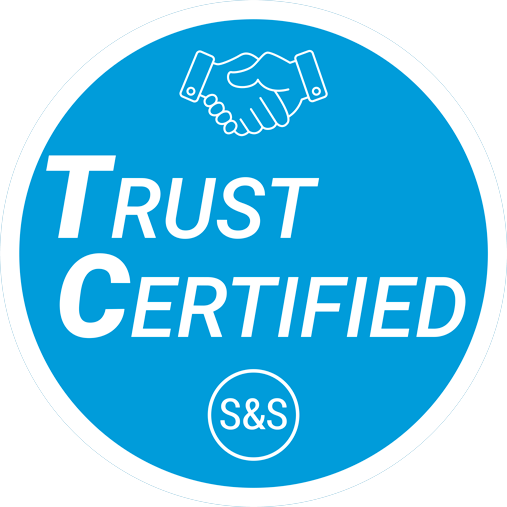 We only employ Trust Certified Technicians. You are choosing an HVAC contractor that has passed and earned the Trust Certification badge. The Trust Certification provides the customer with a guarantee of service and training. It is a stringent process in which only a small percentage of applicants actually become certified after going through the process.
This certification takes between 4 and 12 months to complete. The certification ensures team members are following a standardized procedure for every process, including installing equipment, greeting customers, and handling their vans. All team members will be required to pass service, installation, policy, and procedure exams for their in-house mechanical certification.
HVAC Trust Certification Qualifications
S&S Mechanical holds a Trust Certified badge to ensure the highest quality customer service in all of Washington County for both residential and commercial services. All of our Trust Certified technicians have:
Passed background check covering the past seven years
Passed drug testing
Passed the Trust Certified Technician Exam
Received Carrier Authorized Dealer Certification
The Trust Badge on our van and the technician's uniform is proof that these professionals have passed a tough certification process, testing, and training. As soon as you see the badge, you should have no doubt that you will get the best service.